...
Accommodation
Hotel President Budapest ****
Hotel President Budapest offers 152 unique furnished rooms, together with a great selection of healthy breakfast, as well free access to our guests to President Wellness. Free WIFI is available in the entire Hotel, accessible in public areas as well in guest rooms.
Address & contact
Hold u. 3-5.
1054 Budapest, Hungary
Website: Hotel President
Contact: This email address is being protected from spambots. You need JavaScript enabled to view it.

View on map Street view
Prices
Superior Room with single occupancy
159 EUR / Night
Superior Room with double occupancy
179 EUR / Night
Prices include buffet style breakfast and taxes.
In order to benefit from the special rate above please follow the reservation link:

Online reservation
...
K+K Hotel Opera ****
Stylishly designed rooms radiate warm elegance and comfort at the K+K Hotel Opera in Budapest. The careful selection of high-quality fabrics and finest textiles enhance the unique ambiance of the rooms. Guest beds with top quality mattresses and down duvets ensure a most restful sleep.
Address & Contact
Révay utca 24.
1065 Budapest
Phone: (+36 1) 269 0222
Website: K+K Hotel Opera
Email: This email address is being protected from spambots. You need JavaScript enabled to view it.

View on map


Prices
Classic Single Room
150 EUR / Night
Classic Double Room
160 EUR / Night
Prices include buffet breakfast & VAT.
Please download reservation form below and mail/fax as soon as possible to Hotel Opera.

Booking form (pdf)
...
Hotel Central Basilica ****
The building of the hotel was built in 1879 and functioned as a town house. It was rebulit in 1908 first and they covered the courtyard this time.
Hotel Central Basilica is situated in the cultural, tourism and business centre of Hungary, in the adjacent of the best restaurants and entertaining places of Budapest. The hotel being surrounded by historic buildings ensures a peaceful rest by its elegant rooms and apartments for those business travellers and tourists who visit our Capital City.
Address & Contact
Hercegprímás utca 8.
1051 Budapest
Phone: (+36 1) 328 5010
Website: Hotel Central Basilica
Email: This email address is being protected from spambots. You need JavaScript enabled to view it.

View on map Street view


Prices
Double room with single occupancy
143 EUR / Night
Double Room with double occupancy
153 EUR / Night
Prices include breakfast & VAT.
Payment:
by the guests upon checking-out.
Booking can be cancelled 48 hours prior to arrival. In case of a late cancellation the costs of 1 night will be charged on the guests credit card.

Booking:
participants can book their rooms by submitting their booking at This email address is being protected from spambots. You need JavaScript enabled to view it.

Booking Code: WIANF2019
...
Registration info
Registration fees
 
Early-bird
Registration
Standard
Registration
Late
Registration
 
Until
May 30,
2017
Until
October 5,
2017
From
October 6, 2017
and On-site
Academic
EUR 400
EUR 450
EUR 500
Industrial
EUR 450
EUR 500

EUR 550
Young Scientist
(under age 30)
EUR 250
EUR 300

EUR 350
Accompanying person
EUR 200
EUR 200
EUR 200
The conference registration fee includes
Attendance to all scientific sessions
Official conference documentation
Conference bag with complete conference materials
Admission to the Welcome Reception
Coffee breaks
Lunches on October 19-20, 2017
VAT
Total value of catering included in the registration fee is 130 EUR
(with service charges)
VAT (27%)
The registration fee includes intermediary services.
The catering fee will be indicated on a separate row of the invoice.
The accompanying fee includes
Accompanying persons are those who do not actually participate at the congress i.e. they come with an active participant
Accompanying persons are not allowed to participate in the scientific sessions
Admission to the Welcome Reception
Coffee breaks
Lunches on October 19-20, 2017
VAT
The registration fee includes intermediary services.
The catering fee will be indicated on a separate row of the invoice.
Young Scientist Registration
If you wish to benefit from the young scientist registration fee, you will be required to send a proof of your student status (i.e. copy of student ID) to This email address is being protected from spambots. You need JavaScript enabled to view it.. Without proof of your student status, you will not be entitled to the student registration fees.
Group discounts
We offer a group discount of 20% off the registration fee for 4 or more participants. All participants must register together and only one invoice will be issued. These discounts cannot be combined with any other discounted rate (e.g. Early Bird Rate, Young Scientist Rate). Contact AKCongress Office at This email address is being protected from spambots. You need JavaScript enabled to view it. for more details and registration instructions.
Early-bird rate condition
In order to obtain the Early-bird rate, we must be in receipt of your full conference registration fee no later than May 30, 2017. Although we endeavour to notify paper acceptance before this date, external factors may prevent this. In the event of an author subsequently failing to have a paper accepted for the conference, a refund can be made (cancellation charges apply).
Payment deadlines
Early Bird fees must reach us no later than May 30, 2017.
In order to ensure the publication of accepted abstracts authors payment must reach us no later than August 10, 2017. For all accepted paper at least one author must register at the appropriate rate. Other payments should reach us no later than September 1, 2017. Registrations can still be made after this date, provided payment is received by credit/debit card at the time of booking.
Payment process
Bank transfer
Based on the pro-forma invoice you can start the payment procedure. You can download your pro-forma invoice from your account. The letter of confirmation must be presented upon registration at the beginning of the conference.

Credit card (MasterCard, VISA, VISA Electron and Maestro)
Credit card payment is also available via our registration system. After submitting your registration you will find a 'CLICK TO PAY NOW' button next to the items you have selected for credit card payment. Clicking on this button you can get to the website of the bank and finalize your payment. After payment you will receive an e-mail about the result of the transaction.
Cancellation policy
Cancellations can only be made via e-mail to This email address is being protected from spambots. You need JavaScript enabled to view it..

Cancellation till August 15, 2017
Full refund, excluding a EUR 50 administration charge.

Cancellation after August 15, 2017
No refund.

If you cannot attend the conference, a substitute is welcome to attend at any time. In such case please contact AKCongress Office at This email address is being protected from spambots. You need JavaScript enabled to view it. prior the event.
Claims
Claims should be submitted via e-mail to This email address is being protected from spambots. You need JavaScript enabled to view it. prior the event. All claims will be investigated and answered via e-mail within 5 working days.
Claims and questions
For inquiries relating to Wianf2017 please contact the Conference Secretariat at This email address is being protected from spambots. You need JavaScript enabled to view it..
Force majeure
In case of force majeure the Organizer is relieved of all obligations. Force majeure includes any circumstances beyond the will of the Organizer, that impedes permanent or temporary compliance with the obligations, such as "acts of god" including war, danger of war, government regulations, revolts, strikes, transportation difficulties, fire or severe disturbances affecting the conference organization or its supplies. If any of the above circumstances emerge an administrative fee of EUR 50 will be deducted from the refundable amount.
...
...
Venue gallery
...
Venue full gallery
...
Conference Venue
Mercure Budapest Buda****
The 4-star Mercure Budapest Buda hotel is located in the heart of Budapest, in the neighborhood of the historical Castle District. There is direct access to public transport (Deli pu. station). Easy to reach from M1/M7 motorway. Hotel Mercure Budapest Buda is perfect for a weekend or business travel. Conference capacity of up to 300 persons. FREE WIFI, Privilege floor, free outdoor parking, two restaurants, lobby bar, souvenir shops, friendly staff.
Address & Contact
41-43, Krisztina körút, Budapest
Phone: (+36) 1/488-8100
Fax: +36 1 488 8171
Email: This email address is being protected from spambots. You need JavaScript enabled to view it.
Online: Mercure Budapest Buda
View map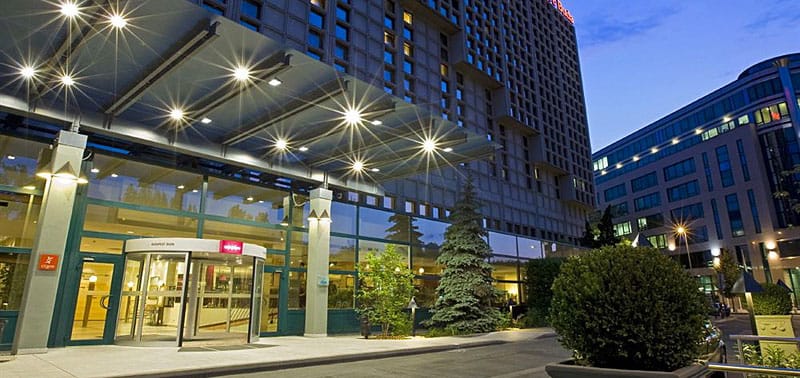 Plenary Room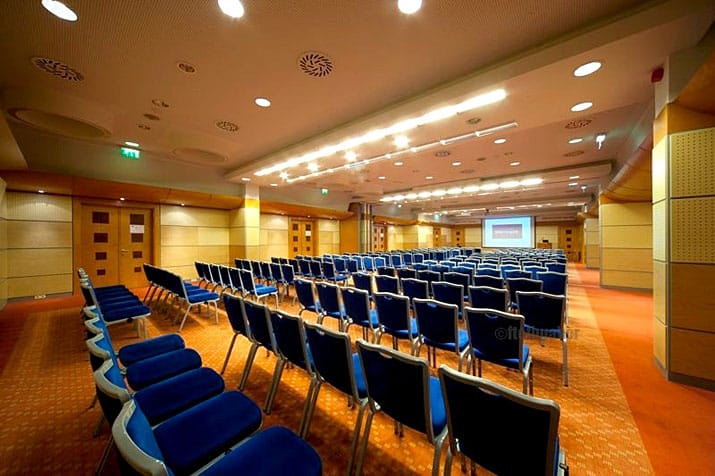 All meeting rooms are well equipped with the newest audio-visual systems to ensure the high-quality presentations. Conference plenary room seats up to 300 guests, and it can be separated into three session rooms with sound-proof walls. Plenary room is connected with a spacious foyer which is suitable for exhibitions and receptions.
Meeting Rooms
Our dedicated professional staff will ensure you the success of your conference in 7 air conditioned meeting rooms. Some of the rooms offer natural daylight which ensures the comfort of an all-day event and are equipped with modern technology.
The Mercure Budapest Buda hotel is an ideal location for small and medium size events which are prepared and organised with special care and precision.
...
Accommodation
Conference participants are offered discounted room rates. Please note that the number of concessions are limited.
Reservation and payment can be made individually.
MaCKiE Organizing Committee can not guarantee accommodation.
Standard twin room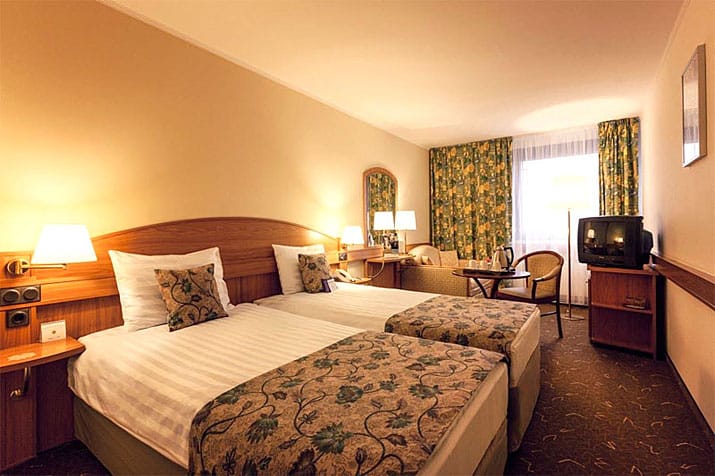 Standard double Room
Standard room with 1 Double bed or 2 Single beds, air-conditioning, bathroom with bathtub, hairdryer, minibar, safe, free WiFi, satellite programmes, radio, phone.
Discounted prices
Standard single room: 89 EUR/night
Standard double room: 99 EUR/night
Between the age of 18 and 70 the local tax is 450 HUF/person/night (cca. 1.6 EUR).
Prices include
accommodation with buffet breakfast
WiFi internet access
VAT and local taxes
Cancellation policy
No cancellation charge applies up to 10 days prior to arrival. Beyond that time, the amount due is not refundable, even if the booking is cancelled or modified.
Check-in policy: check-in time 14:00.
Check-out policy: the room must be vacated by 12:00 at the latest except in case of Late Check Out.
Guarantee policy: all reservations must be guaranteed with a credit card valid at the date of the start of your stay, unless otherwise specified.
...
Nearby Hotels
In case you do not find a proper hotel room in the conference hotel, or you prefer booking a room in a different hotel, we suggest you to search for a suitable accommodation through the following link, where you can find other options nearby the conference venue.